Profile
Age

25
Sex

Female
Location

Chicago, United States of America (USA)
Sexual orientation

Bisexual
Speaks

English
Eyes

Green
Hair

Grey
Constitution

Slender
Breast size

Large: DD-DDD-E
* $30 minimum for all sessions (cam or chat) - No longer doing PPM on this site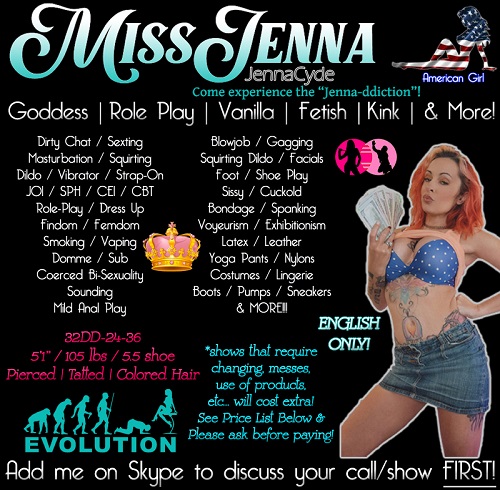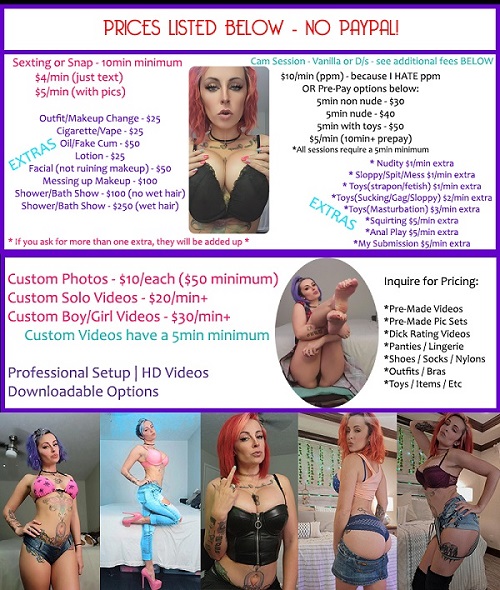 (Please read the following rules. I am a total sweetheart and can be the girl of your dreams, but if you *** me off, I will never work with you again. Respect my time and I will respect your money!)
HAIR COLOR/OUTFIT: Do NOT ask me what my hair color is, I will not tell you! I change it all the time and it's one thing that people love about me. If you don't like that I won't tell you, tough shit. You're here to cam with ME, not my hair; and if hair color is what stops you from experiencing everything that I am and how I can make you feel, then find someone else to cam with! I also will not tell you what I am currently wearing unless you are a dedicated regular. If you would like to request an outfit, please do so when setting up the session.
EXTREME/SUBMISSIVE SHOWS: If you are asking for something extreme or for me to submit (please understand my rules and limits) there there will be a fee added onto those shows of $5/min extra.
DO NOT ADD ME ON SKYPE IF YOU DO NOT INTEND TO DO A SHOW RIGHT AWAY: I do not have time to sit on here and chat with people for free. I am extremely busy during the times that I am on cam. If you cannot respect my time, I will block you. If you want a show tomorrow or next week, then add me tomorrow or next week. If you want to cam with me in 10min or an hour, then please prepay so I can reserve a spot for you. If you fail to show up for the time you requested, there will be no refunds or reschedules. I am not here to keep track of your schedule.
KNOW WHAT YOU WANT BEFORE YOU ADD ME: I do not "wing it" in my shows and the best way to have a horrible experience is to go in not knowing what you want to see and expecting me to read your mind.
PAYMENTS: I have a 5min minimum, no shows will be done for less than 5min. If we discuss a show and I tell you the price, you have 5min to complete payment. If you do not pay within 5min, or you do not respond when I tell you the price, I will assume you're not paying and I will move on. If you do end up paying (after that 5min) and I am already in a show with someone else, you will have to wait until I am free again. If you are not free when I return, I will honor the show for another scheduled time (once... if you do not show up at the time we schedule, the show will be forfeited).
PREBOOKINGS: If you want to prebook a session, you must pay in advance (for $1/min more than your show cost). If you fail to show up for that session, you will forfeit the money paid for that session unless you notify me at least 24 hours in advance that you will not be able to make it. Then we will do ONE reschedule at 25% off (meaning if you paid for 10min, you lose 2.5min) and if you fail to show up for that, you do not get your money back. The reschedule will be done at MY discretion. Models are not required to do reschedules if a customer misses the show he paid for, so I offer this as a courtesy.
LIMITS: I have limits and so does the site. If you ask me to do something the site does not allow, I will tell you no. If you have a problem with that, find someone else to cam with! My limits include: no racial/religious slurs, no anal fucking, no fisting/gaping, and I will only pretend to be as young as 18; if there is something you want and it's not listed in my dos or don'ts, then ask!
'CAM CHECKS'/VERIFICATION: I use a Logitech BRIO 4K HD webcam; a Blue 1967 Yeti Pro USB Condenser Microphone, Multipattern; and great, multidirectional lighting. My cam quality has been complimented more times than I can count. I have also been online for a very long time and I am very professional and very real! If you want a test, you can pay $5 to see me on cam for 30sec - no refunds and it will not be applied towards the cost of your show.
NO FREE PREVIEWS: It makes you sound like a scammer. If you're looking for a freebie, you won't find it here and if you ask, I will probably just block you. This is my job, you wouldn't work at your job for free, so why would you expect me to?
IF YOU BUY A 10 MIN SHOW AND LEAVE AFTER 5 MINS, YOUR SHOW IS OVER: If something comes up on your end and you have to leave, or if you cum too quickly and you end the call, the called is OVER. It's not my fault if your wife comes homes or wakes up, or you get a phone call in the middle of our session, or I make you cum faster than you expected. If you end the call before time is up, you do not get to redeem the remaining minutes at a later date.
I AM NOT RESPONSIBLE FOR YOUR TECHNICAL PROBLEMS: If you're in the middle of a show or you're about to start a show and your mic/camera/keyboard/anything breaks or your internet or power cuts out, I'm sorry, but if you want another show, you will have to pay for one. Like I said before, I am extremely busy when I am online, which means I cannot afford to wait around for you to fix anything! Please make sure everything works before we begin.
DO NOT HAGGLE MY PRICES: If you hit me up and proceed to tell me that some girl on another website only charges $1 per min, that's great, but I don't want to hear about it. Don't compare me to anyone online, whether it be prices or shows. I'm not like anyone else and no one else is like me. My shows are genuine and take a great deal of time and energy. The prices I have set are extremely competitive and I absolutely will not adjust them. I'm not here to collect a few bucks and leave you high and dry, I'm here to give you a quality experience that will keep you coming back for more!
DO NOT RECORD MY SHOWS: You may think you're cleaver with screenshots and other technology, but if I catch you trying to record me, I will be alerted immediately and your show will be terminated with absolutely zero refund issued. Don't test me! If you want a video of me to keep forever, please either buy one of my pre-made videos, or request a custom! HOWEVER: If you want to keep a copy of our show, I will do the recording and you will be able to download it from me at a rate of $5/min extra. This MUST be discussed prior to payment!
Disclaimer: Do not ask me to meet up. I am a cam girl, not an escort. I will not fuck you for money. If you pressure me or make me feel uncomfortable during a show. I will end the show and you will not get your money back. Treat me with respect and I promise you will enjoy your time!
Customs have a minimum one week turn around unless otherwise stated by me
Unlock all free photos by signing up as a free member.
Best Roleplay Anywhere!
anonymous - 2020-11-07
great show
Richie - 2020-03-13
Great body. Love the lush toy. Will call again😏