Perfil
Edad

28
Sexo

Mujer
Ubicación

Fribourg, Switzerland
Orientación sexual

Bisexual
Habla

English
Ojos

Marrón
Cabello

Negro
Complexión

Atlética y tonificada
Tamaño de senos

Media: C-D
╔═════════════════════❖•ೋ°❖°ೋ•❖═════════════════════╗
NEW OFFER

7 days in a row 10 mins shows -online only for you - $120.00 PRE PAY

Show will be in any time you want I will be online Only For You. Warning** **7 days in a row mean that we do show every day and you can not save the show for some another day, if you can not play with me that day, one show less we got!

╚═════════════════════❖•ೋ°❖°ೋ•❖═════════════════════╝

✬* Hy guys! I am a lingerie and swimwear model and in private life im open-minded, fun and direct person, NOTHING fake ABOUT ME. Im here because I am very horny and I cum the most 12 times a day. I would like to get a know you and make myself wet with you. I am always at my home but it s never bored with me.
✬
WARNING!
*WHEN YOU REACH OUT TO ME ON THE SKYPE, TELL ME FIRST FROM WHICH PLATFORM DO YOU COME FROM, THANK YOU :))))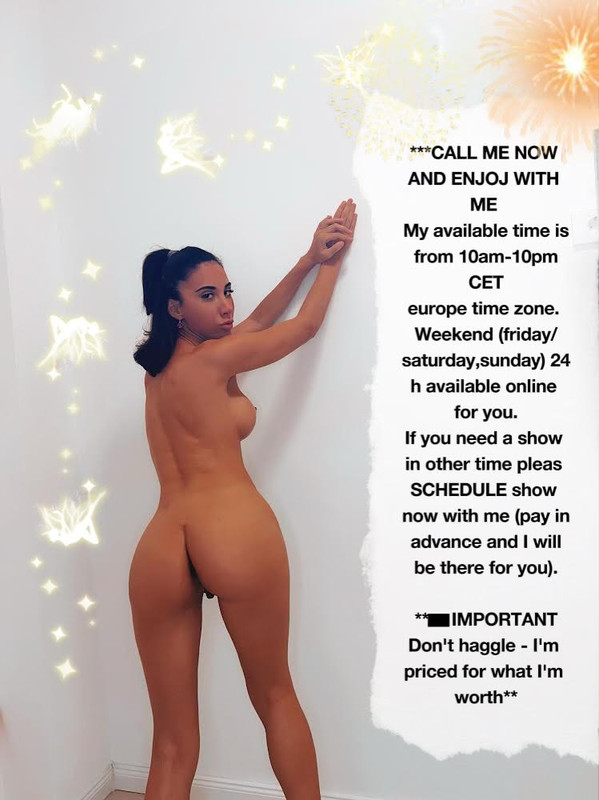 MY ONLY RULE❗❗

It's a minimum of 5 minutes with me (we cum together) and please quick cummers pass me by!
ALL INCLUDED IN price$/ MIN, IT IS NOT NECESSARY EXTRA CASH FOR THIS !!

***THINGS I DO NOT DO NO MATTER PRICE****

**Reasons why I will stop the show right away and** block **you
❌BIG NO FOR DIRTY SHOWS THAT'S:
❌URI NATE OR VOMIT OR FISTING OR P O O
❌DO NOT ASK ME FOR LOWER PRICE
❌DO NOT ASK ME FOR PAYING THRU PAY PAL
❌DO NOT ASK ME FOR FREE PREVIEW
CONTROL MY ORGASMS
(No extra charge)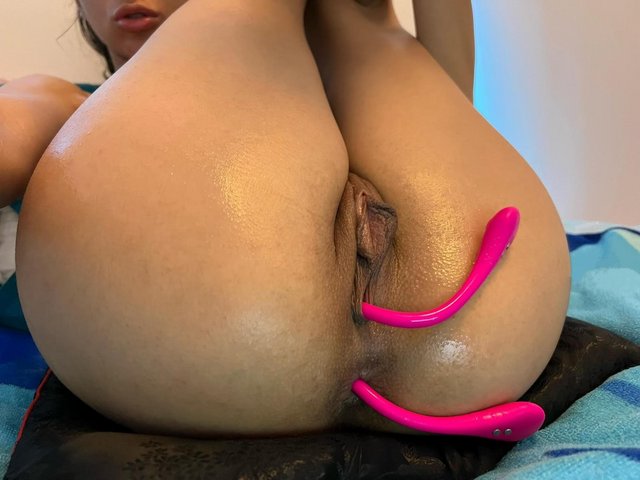 ♛ MENU♛
✨QUEEN OF KINKEY SHOWS
✨TALKING ABOUT YOUR FEARS (while Im naked)
✨TALKING ABOUT OUR SECRETS (while Im naked)
✨FUCKING MY PUSSY AND ASSHOLE
✨DILDO IN ASS
✨BUTT PLUGINS
✨LOVSENSE LUSH3 2x (double penetration with both lush)
✨DOUBLE PENETRATION (Double dong glass realistic cock)
✨PUSSY AND ASS PLAY WITH FINGERS
✨FAT 20cm/8In REALISTIC COCK DILDO
✨NORMAL15cm/6In REALISTIC COCK DILDO
✨SLIM 18CM/7,8IN REAL SKIN, REALISTIC COCK DILDO
✨BLOW JOB (dildo,finger,sloppy sucking)
✨ORGASM
✨OIL SHOW
✨MASTURBATION (mutual also)
✨RIDE DILDO
✨FOOTJOOBS
✨SPANKING
✨SPIT SHOW, SALIVA SPIT (ass,body,boobs your choice where)
✨FOOT FETISH (heels)
✨TALK DIRTY
✨MOANING
DOMINA
✨CEI-CUM EATING INSTRUCTIONS
✨JOI- JERK OFF INSTRUCTIONS
✨SPH-SMALL PENIS HUMILLIATION
✨CUCKOLDING
✨RATING YOUR COCK
✨BLACKMAIL
✨HUMILIATION
Are you not registered? ♥♥
You can check this link and create your account, and then you can call me...
https://veronica-costa.camlust.com
Unlock all free photos by signing up as a free member.
The best!
Ben - 2022-07-21
A lot of fun a lot of sexy
Demarrco Easton - 2022-06-09
She is the abosute best and is so sexy. Has a great personality and is surprisingly funny.
Tev - 2022-04-25